The way better nut butter
The way better nut butter
The way better nut butter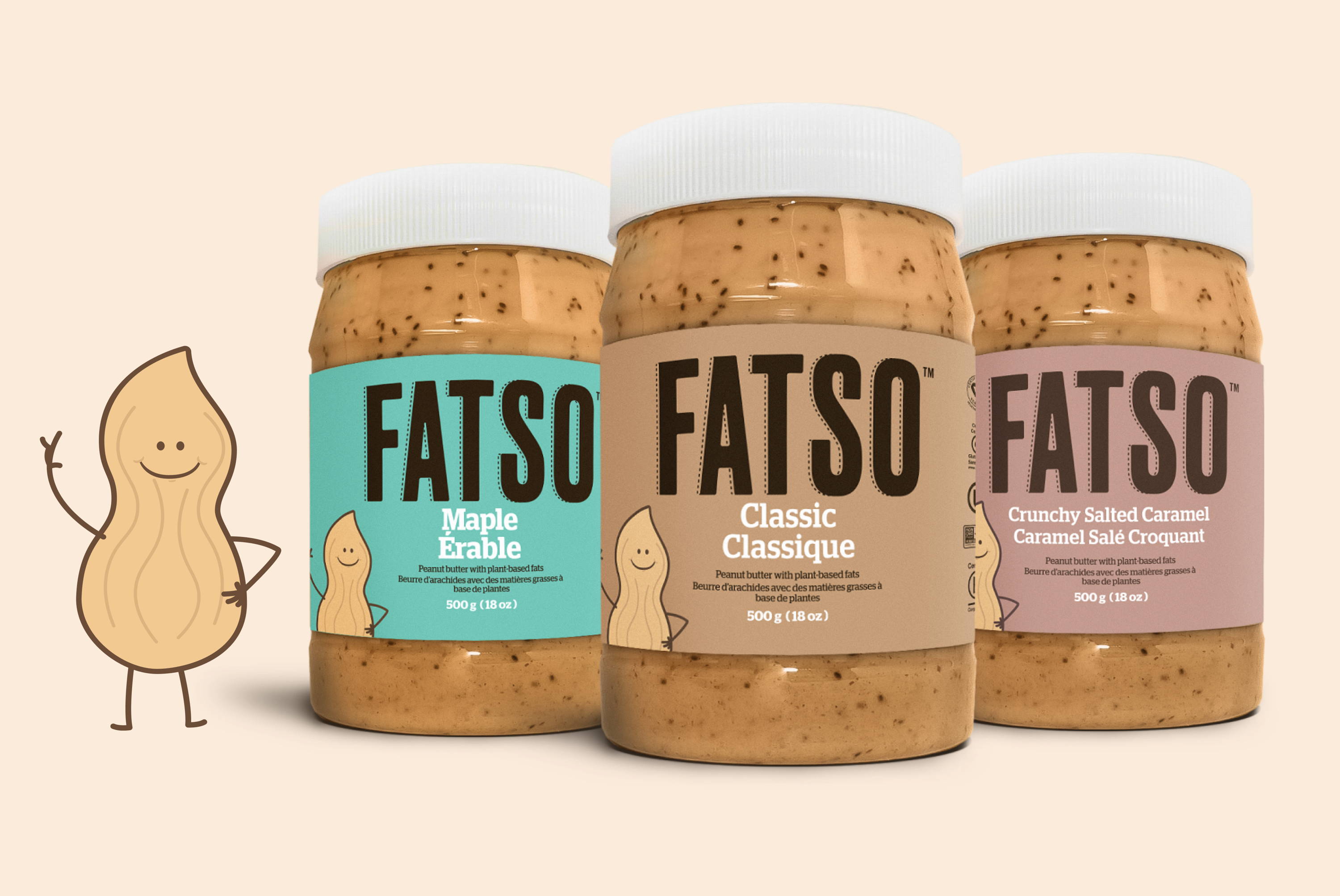 Fatso Peanut Butter was created to bring good fats, whole ingredients, and delicious flavour to more people. We began by focusing on the wallet-friendly peanut because it's packed with protein, antioxidants, and minerals, and is environmentally sustainable. We added in amazing plant-based fats including organic coconut oil, MCT oil, chia seeds and flax with a touch of sweetness from tapioca fiber. No sugar or palm oil - ever! Our goal is to make nutrient dense food and ingredient diversity more accessible to more people. Spoon for spoon, better food and better value! Power to the peanut and the people!
Fatso Classic Peanut Butter
Fatso Classic was our first flavour and set the standard for all nut butters to come! Fatso Classic has a decadent and rich texture with a hint of coconut - perfect for dipping and drizzling at room temperature and ideal for spreading straight outta the fridge.
Fatso Crunchy Salted Caramel Peanut Butter

Fatso Crunchy Salted Caramel hits all the marks: crunchy, salty, caramelly...it's in the name. This intensely delicious flavour will have you eating it straight out of the jar at all hours of the day. But it's perfect on waffles and toast too!
Fatso Maple Peanut Butter
Fatso Maple is a unique blend of peanuts, chia, flax, and plant-based fats, including MCT oil and organic coconut oil. Every spoonful is packed with a variety of nutrient-dense ingredients and complimented by a rich maple flavour, with a hint of sea salt as a nod to our Canadian and West Coast roots.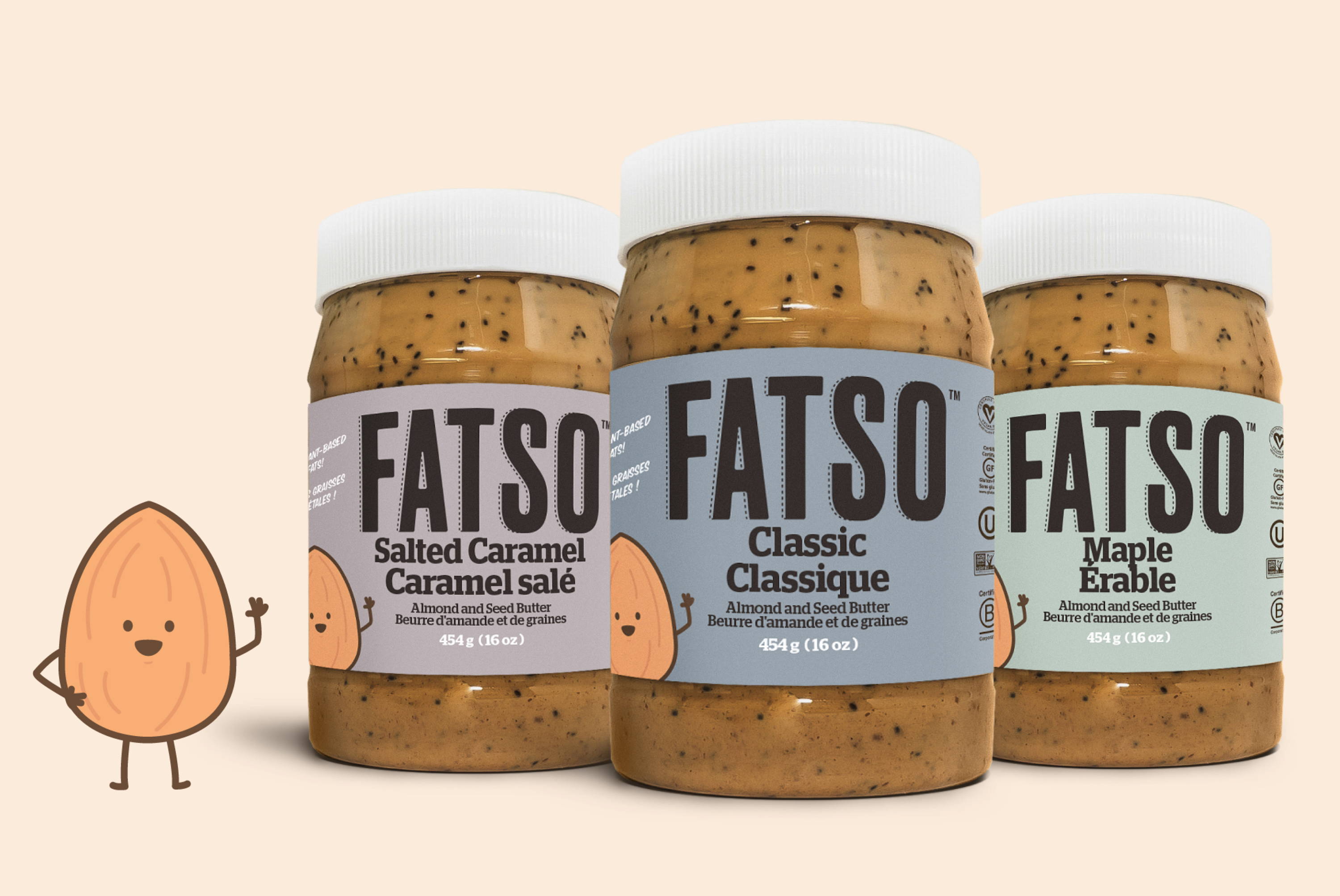 Fatso Almond and Seed Butter
Fatso Almond + Seed Butter is our answer to ingredient diversity and PWDPP (that's People Who Don't Prefer Peanuts). Why have one nut when you can have the benefit of nutrient dense seeds, as well? We've taken almonds and blended it with the environmentally sustainable and protein-packed pumpkin and sunflower seeds giving you oodles more bang for your buck. And of course we've put in our signature fat-blend with organic coconut oil, MCT oil, chia seeds and flax with a touch of sweetness from tapioca fiber.
Fatso Classic Almond and Seed Butter
You can't change a classic...or can we? We brought back our signature flavour with a twist! In addition to our amazing nut and seed blend, and all those plant-based fats, you'll find real shredded coconut for an extra delicious texture. Classic Almond + Seed is perfect poured over oatmeal or drizzled over a fresh-cut apple. Or spoon straight to mouth - whatever!
Fatso Salted Caramel Almond and Seed Butter

Can't get enough of that salted caramel! The nutty and earthy taste of almonds and seeds are intensely enhanced by this warm caramel flavour and boost with pink Himalayan salt. Drop some into a blender for a smoothie or use it in your fave banana bread recipe.
Fatso Maple Almond and Seed Butter
Because we're Canadian, that's why. Also we know that, Canadian or not, everyone loves the roasty toasty-ness of maple! This beautifully balanced, warm flavour goes great on toast, on top of pancakes, or baked into maple almond butter brownies!